Christmas @ Galeries Lafayette
01/12/2020
This year I didn't illustrate a book in 2D, but shop windows in 3D for the Galeries Lafayette
Autumn in Japan
21/09/2020
Just as in previous seasons, we added colour to the Umie department stores at Kobe Harborland, Japan.



Dove Sono Tutti?
10/09/2020
Here's the first translation of our little pop up book by our favourite Italian publisher Panini:-)


Summer in Japan
21/07/2020
As usual we provided the Umie stores at the Harborland site in Kobe with some seasonal colors.

Waar is iedereen?
01/04/2020
Niet dat we het er om deden, maar dit toepasselijk genaamde boekje kwam net uit in volle lockdown.

Een flapjesboek waarbij er zich telkens iemand verbergt achter een flapje van gelijkende vorm.


Spring in Japan
21/03/2020
As usual we provided the Umie stores at the Harborland site in Kobe with some seasonal colors.

New posters & books
21/01/2020
It took me a while but as of now you can find a variety of new posters & books on my webshop. Feel free to have a look around by clicking the shop button and by scrolling downwards. Images are enlarged when selected.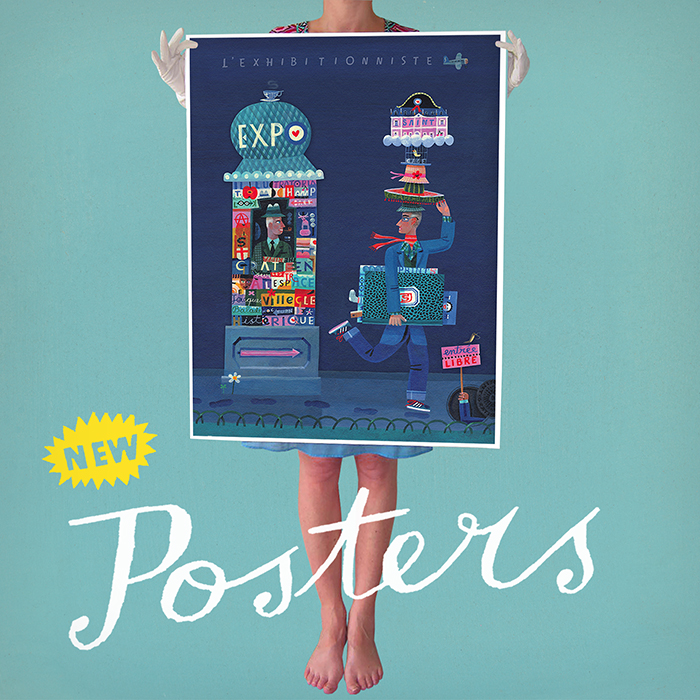 Retail Estates Bathroom Doors
20/01/2020
At the end of last year we created a series of bathroom doors for this Belgian developer of big stores.

We intended to show every aspect of the trade so I painted some characters to populate the stores.

But since I didn't have time to paint shop racks in all shapes and sizesI used a photographic series.

Grouped them thematically and created some imaginary tailor made, mostly vertical stores.
Le + Beau livre des Couleurs
29/11/2019
Super content avec la version française de notre encyclopédie des couleurs chez Albin Michel.

Rien a été censuré et toutes les couleurs semblent bien présentes & présentées dans ces 48 pgs:-)

C'est toujours chouette de voir que l'humour se laisse traduire, surtout quand il s'agit de ma deuxième langue:-)

Grand merci à la traductrice Noêlle Michel alors! (pas la soeur de l'éditeur Albin, je suppose;-))
Salento family friendly/Puglia in low season
22/11/2019

Contrary to the thousands of tourists who invade the beautiful region of Puglia in summer, we paid it a visit in low season. If you're not craving for very high temperatures but prefer milder temperatures then you shouldn't hesitate to visit this region of Italy in low season.

Upon invitation of the owners of 'Idrusa', the Alessano local library and Andersen, Italy's most prestigeous magazine of children's litterature, we had the fortune to spend a mid-week visiting several beautiful communities in the heel of Italy, combining tourism and culture. 'Salento family friendly' is a cultural initiative inviting the community to participate to workshops and book presentations combined with visits of the beautiful region. We had the occasion to see Tricase, Alessano, Corsano, Cagliano del Capo, Ruffano and Lucugnano, to taste the most delicious dishes, pastries, ice creams, esspreso's and capuccino's and fill our lungs with the fresh air at the coast of Santa Maria di Leuca, the most Southers point of Italy's heel.

Our Italian edition of "Show and tell me the world" with the longest title ever, being "Il più folle e divertente libro illustrato del mondo di Otto" won the Italian Andersen award 0-6 years this spring. Organised in Genua, the awards were picked up by library Idrusa in the far South of the country. In good company of a handful very interesting other authors with amongst others Marino Amodio and Vincenzo Del Vecchio, the authors of "Terraneo" (Gallucci) and winners of the Italian Andersen Award 2019 we had the occasion of having workshops at several primary schools and libraries and learn the very basics of ceramics with Giorgia Prontera.
Humos ecologie & klimaat enquête
20/11/2019
Terug thuis! Uit het Zuiden en ook wel in figuurlijke zin. Was al ff geleden – ik maakte m'n eerste Humo cover zowat 30 jaar geleden! – maar vond dit toch wel een inspirerend & relevant onderwerp om te illustreren…

Een lichtjes ontnuchterende poll over wat we werkelijk denken, doen en denken te doen ivm het belangrijkste punt op de politieke agenda dat nooit écht een punt op de agenda lijkt te zijn…

Deed m'n stinkende best om de 2 personages toch een beetje op die 2 heldhaftige meisjes te laten lijken:-)

Boekenbeurs
13/11/2019
Grijs & koud weer voorspeld vlg maandag: ideaal weer voor de laatste dag van de Boekenbeurs:-) Ondergetekende zal graag aanwezig zijn in Antwerpen op Wapenstilstand, tss 14 & 15u, op stand Nr 315 (Lannoo) om al uw boeken volledig vol te tekenen met namen & kleurtjes (foto BB'18)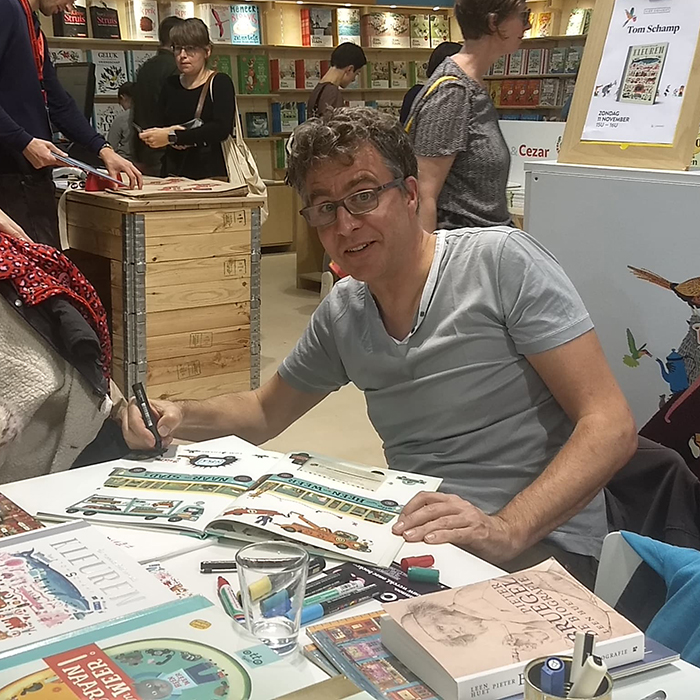 We are form Barcelona 2
10/10/2019

Yet another book is recently translated into Spanish & Catalan, by Ediciones Flamboyant now.

They took very well care of my book of opposites, originally made 5 years ago, but based on last year's restyled vinyl album size re-edition. It really looks yummy like a Flan Catalan Gigante:-)

Especially happy the sport games on pg 22 – inspired by mount Montjuic in Barcelona, but absolutely painted from memory – finally made it back home to the Olympic city of 1992…
They might become giants...
30/09/2019
It took me about 4 years – with intervals – to get these 4 babies finished, but they officially left the house last Friday to get framed, spread their wings & go their own way. Adios, Amigos & Fare Well!

Started these 'portraits' on wooden panels of 4 kids growing into 4 young adults – slightly inspired by 4 Indonesian noblemen at the Rijksmuseum in A'dam and very much influenced by Bruegels 4 seasons from last year in Vienna – still at our giant-ex-Jet-studio, where I made these first 3 steps:


We are form Barcelona 1
15/09/2019

Our Encyclopedia Colorista is from now on also officially available in Spanish & Catalan. Muchas gracias / graciès to Combel Editorial for these 48 colorful pages in both super colorful languages.

Rojo / vermell is of course the color I associate Espana & Cataluna most with…

… but I had to make some minor corrections on page 23 to avoid any sensitive topic;-)

The book still has a happy ending though, on some costa, somewhere over the rainbow:-)

Wemmel Jaarmarktk / Marché Annuel
19/08/2019
Respecting an old annual tradition, I made the annual poster for the annual fair of our hometown.

And this year we also took care of the communication for the night shift :-)

Summer in Japan
21/06/2019
Since Umie in Kobe (Harborland) is definetely 'a mall for all seasons', we've made them another brand new image, for their Summer Campaign 2019.

I've been painting & peeling lots of extra fresh fruit this Spring for a smooth fruit salad to share with everyone on the spot this Summer (and added a lot of fruit related western pop tunes & other nonsense;-))


Italian Andersen Award
26/05/2019
Happy as a Giro winner with this fine support for our latest title in Italy:-)

Goldon week / 6th Anniversary
01/05/2019
Il Piu folle mostra illustrata del mondo (di Otto)
29/03/2019
At the occasion of the Bologna book fair, a small exhibition with a whole lot of images from our – recently translated into Italian – second youngest book will be exposed at cultural coffee house Zoo (downtown Bologna). Opening night's from 7PM on the first of April (if not an Aprill fool's joke;-)) Everybody's very much welcome and I'll try to get there in time!


Il più folle libro illustrato con tutti i colori del mondo di Otto!
15/01/2019
Good news from Italy: our – second youngest – Encyclopaedia 0ttobiografica has recently been translated into Italian by Panini! Grazie 1000, here are some extra insights for Italian speakers.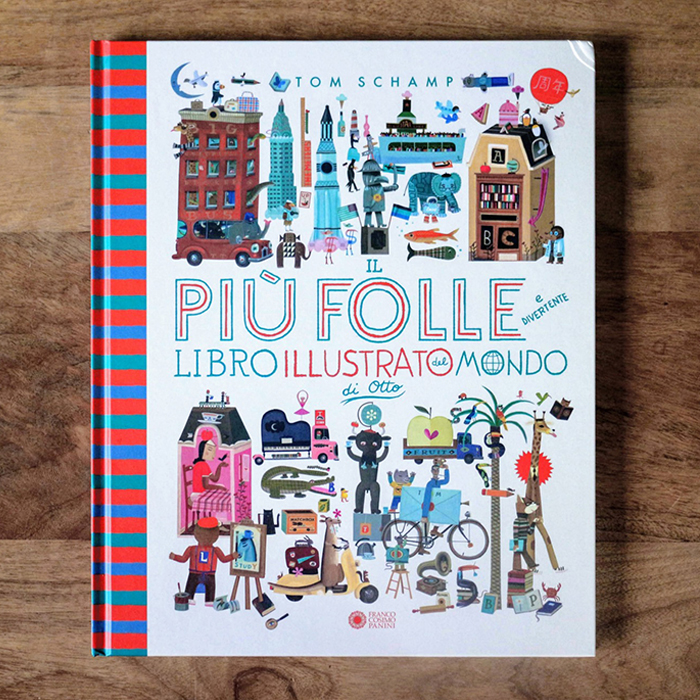 And even better news: our – youngest – Colour Encyclopaedia will also be taken care of in Italian, by the same editor, inventor of the longest running hype among kids since the invention of the hula hoop. I suppose our colour teams will instantly feel at home there (and legal troubles are avoided;-))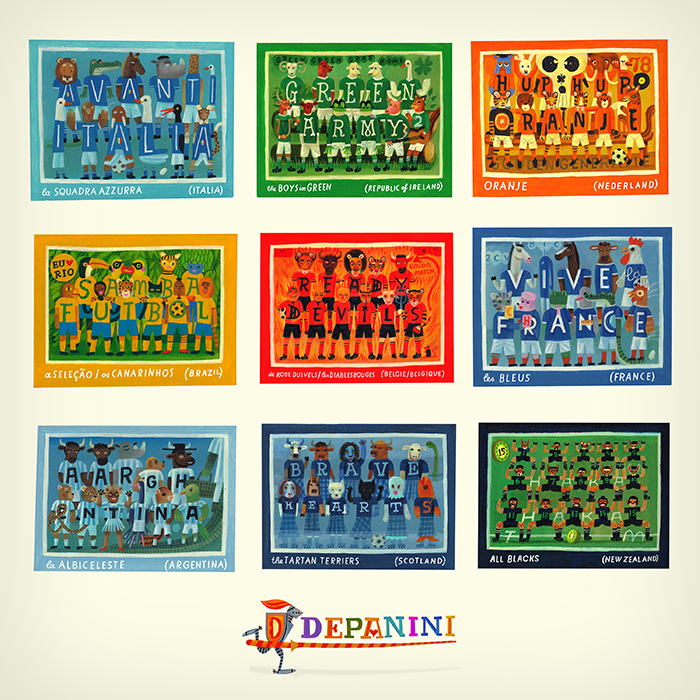 Publishing date of that last one foreseen somewhere on the other side of Summer. Avanti Italia!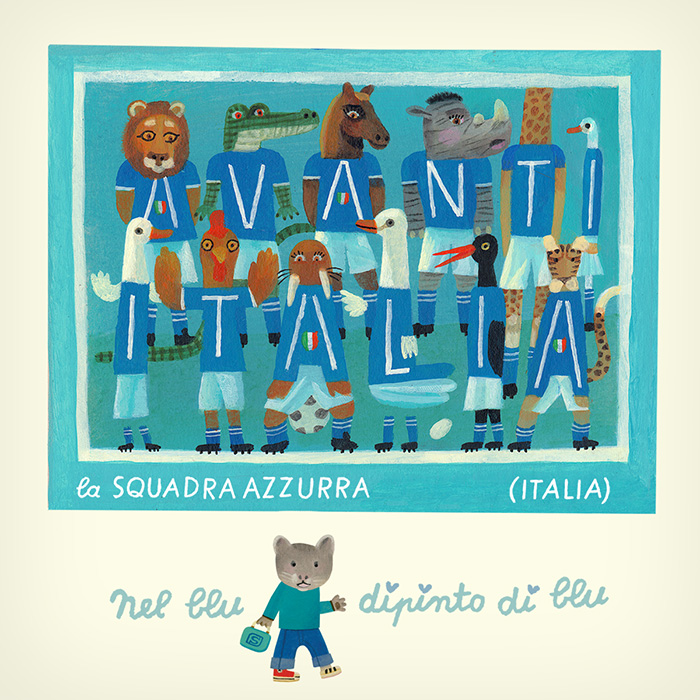 Winter for Sale!
08/01/2019

A square version of our image (with a little help of intern Carolien;-)) for Winter Sales 2019 in Japan.